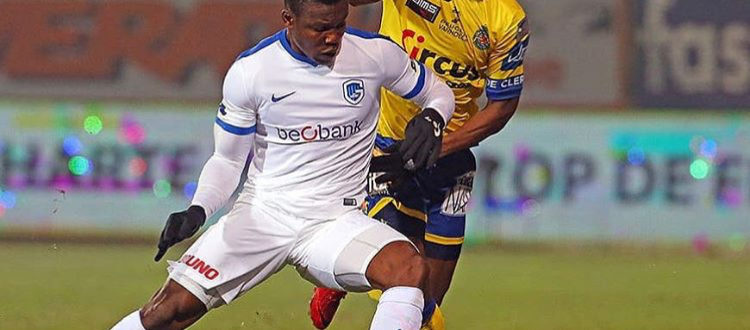 FEATURE: Joseph Aidoo's Black Stars call up, a justification for hard work
Better late than never, so goes the adage and Joseph Aidoo rightly defines the ancient saying.
Before his invitation into the senior national team, many had agitated and questioned why Kwasi Appiah has consistently ignored Joseph Aiddo from the Black Stars when he appears the most active and in-form Ghanaian center back in Europe.
The former Inter Allies rocky defender has not only been superb in his outings for Belgian side KRC Genk but has also showed leadership and amazing career stats in the last two seasons.
As a center back, Aidoo bagged three goals in 32 appearances for Genk last season and has so far staged 28 appearances for the side with 1 goal to his credit.
Joseph's consistency and hard work compelled many to ask questions regarding his absence from Kwasi Appiah's list any time he announces his squad for a national assignment.
Following a super outing last season for KRC Genk, Aidoo was included in the official Europa League 'breakthrough Team of the Year for 2018.
This phenomenal feat further confirmed the need for the defender into the team and consolidated the call for his immediate call up.
The 23-year-old guardsman was a stalwart for the Belgian outfit in the Europa League last season where he netted a goal in four appearances during the group stages.
The former Inter Allies defender, was and still is, an instrumental figure in Philipe Clement's side having guided the side to the summit of the Jupiler League table and ensuring that they are the side with the least number of goals conceded in this season's campaign.
While his overwhelming performance was overlooked by Kwasi Appiah, many questioned the criteria for selection into the national team despite being a public secret that player performance is the primary criteria.
But ahead of the Black Stars' clash with Kenya on Saturday, Kwasi Appiah extended an invite to the player whose performance has been swashbuckling this season.
Standing at 183cm in height and 80kg in weight, Aidoo is expected to weave his way to the starting eleven of the Black Stars when they take on Kenya on Saturday considering how inconsequential the result will be to the qualification of both team to the AFCON.
The industrious defender has staged a stupendous campaign for KRC Genk and the national team call up is obviously a reward for his hard work.
But will Kwasi Appiah be bold enough to start him following his wonderful outing in Europe this season?
Source: (SHEIKH TOPHIC SIENU) Football Made in Ghana